TransAtlantic Jazz Trio
John Defferary (GB) * Jeff Green (USA) * Eric Webster (GB)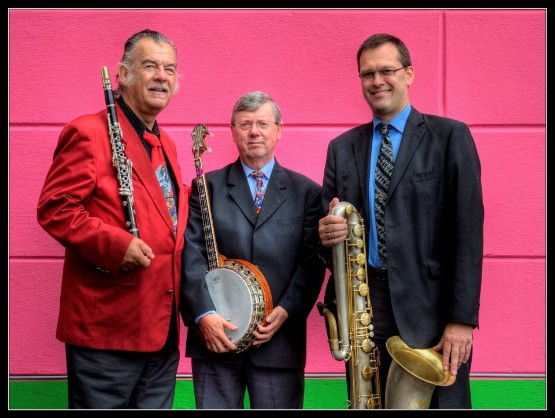 Click on Image for Eccentric Rag LIVE!
Upcoming Public Events
2018
Saturday, September 15th, 17:00 - 21:00, Spirit of New Orleans, Hofheim-Wallau

↙ TransAtlantic Jazz Trio Live ↘
Bei Mir Bist Du Schön Clarinet [Bass Sax] Marmalade
Fats Waller's I'm Crazy About My Baby
Jetzt buchen! -> Contact Info <- Book now!
Andere Jeff Green Events -> EVENTS <- Other Jeff Green Events
Für Text auf Deutsch - S. unten!
John Defferary (GB - clarinet / saxophone) is well known for his tours with the Chris Barber Band, Papa Bue and Trevor Richards. John's father ran a pub and encouraged musicians to play there, so John was brought up with music all around. By the age of 16 he had started playing along (on clarinet) to musicians like Fats Waller, Albert Nichols, and Kid Ory. Barry Martyn (band leader and drummer) asked John to play clarinet in his band, as his reed man had left, and by the time he was 20 John was touring the United States. In March 1973 he joined drummer Trevor Richards's New Orleans Trio (the pianist was Bob Barton). The group toured internationally, and played for long periods in the United States. In the mid-1980s John was asked to join Papa Bue's Viking Jazz Band. He learned to speak Danish, and stayed for some twelve years until replacing Ian Wheeler in the Chris Barber Band in 1998. In 2006, John decided to stop so much touring to send more time with various music projects. With the TransAtlantic Jazz Trio, he does travel with Jeff Green & Eric Webster (back in time, that is) deep into the Roaring 20s!

Jeff Green (USA - bass saxophone) is a fifth generation American bandsman from Chicago, Jeff grew up with Bix Beiderbecke, Louis Armstrong, Scott Joplin and Spike Jones playing in the backgorund while his father's band, "The Original Salty Dogs Jazz Band" performed in the foreground. Jeff is the great-nephew of George Hamilton Green of the Green Brothers Novelty Band, a famous ensemble from 1916-1927 which included the big names of the day, like his grandfather, Lewis G. Green Sr. and Jimmy Dorsey. Lewis G. Green Sr. played on the radio broadcasts with Bix in the Camel Pleasure Hour band, and was also on the same baseball team, Plunkett's All Stars, in the musicians' league in New York in the 1920s. Jeff performed regularly with the Ragtime Evolution Jazz Band in New England until relocating to Germany where he is now underway all over Europe as the clarinetist for the renowned Unnerhaus Jazzband. He also appears with his own International Jazz & Ragtime All Stars, who have performed at venues from Bronnbach, Germany and Germantes, France in Europe to Elkhart, Indiana. Jeff Green's Chicago Stompers was formed in 2007 as a local version of the Interational all stars and appears in the Frankfurt Germany region. In 2009, Jeff, John Defferary and Eric Webster formed the TransAtlantic Jazz Trio, a lively, versatile "top-shelf" Trio and have been performing old jazz at the highest level ever since.

Eric Webster (GB - Banjo, Guitar) is a veteran of traditional British jazz. He has played in various bands as a teenager in the region of his home town, Sidcup in Kent, such as the Northdown Stompers with George Berry. Around this time, he met Sammy Rimington and plays in his band to this day. As a member of the Sonny Morris Band, Eric did tours through Belgium, Holland, Germany, France, Denmark, Sweden and Switzerland, with as well as with various other bands. Eric started his recording career in the mid 60's with George "Kid Sheik" Cola and Bob Davenport for the Topic label. Other albums came out of England and included musicians such as Tim Laughlin and Tuba Fats. Over the last few years, Eric has recorded several more CDs produced by Sammy Rimington, one of which was recorded in New Orleans. In 2009, Eric Joined John Defferary and Jeff Green to form the power-packed International Jazz Trio
-----------------------------------------------------------------------------------------------------------------------------------
TransAtlanitc Jazz Trio auf Deutsch:
John Defferary (GB - Klarinette / Saxofon) ist bekannt durch seine Tourneen mit den Bands von Chris Barber, Papa Bue und Trevor Richards. Er begeistert immer wieder durch seine außergewöhnliche kreolische Klarinette und sein ungemein swingendes Saxophon. Er begeisterte dabei durch seine Virtuosität, seine kreolische, unvergleichlich swingende Klarinette und sein dynamisches Saxophonspiel. 2006 entschloss sich Defferary weniger Zeit mit Tourneereisen zu verbringen, um mehr Zeit für Musikprojekte mit Lars Edegran's New Orleans Gospelgroup, mit Peter 'Banjo' Meyer's European Jazzgiants und als Gast im Reimer von Essen Trio zu haben und wieder im Trevor Richards New Orleans Trio zu spielen. Mit seiner eigenen Band präsentiert er New Orleans Klassiker, Boogie und karibische Rhythmen. Beim TransAtlantic Jazz Trio rutscht er mit Jeff Green & Eric Webster tief in die Wilden 20er zurück!
Jeff Green (USA - Baßsaxofon) ist in der fünften Generation amerikanischer Musiker und stammt aus Chicago. Jeff wuchs mit der allgegenwärtigen Musik von Bix Beiderbecke, Louis Armstrong, Scott Joplin and Spike Jones auf sowie mit der Musik der Band seines Vaters, der 'Original Salty Dogs Jazz Band'. Jeff ist Großneffe von George Hamilton Green, dem Gründer und Leiter der 'Green Brothers Novelty Band', ein zwischen 1916 und 1927 berühmtes Ensemble, das so große Namen der damaligen Zeit einschloß wie seinen Großvater Lewis G. Green Sr. und Jimmy Dorsey. Lewis G. Green Sr. spielte bei Radioübertragungen mit Bix in der Camel Pleasure Hour Band uns war, gemeinsam mit Bix, den Dorsey Brüdern, Red Nichols, Carl Kress und anderen in der selben Baseballmanschaft in der Musiker-Liga im New York der 1920er. Jeff spielt sowohl mit seinen International Jazz & Ragtime All Stars, dem authentischen 1920er Klang huldigend, der Musik in den Ohren wahrer Kenner alten Jazz ist. Als Klarinettist der "Unnerhaus Jazzband" aus Landstuhl, ist Jeff nicht nur im pfälzischen & hessischen Raum, sondern auch europaweit musikalisch unterwegs. Seit 2009 spielt Jeff mit John Defferary & Eric Webster im lebhaften, versatilen TransAtlantic Jazz Trio auf höchstem Niveau.
Eric Webster (GB - Banjo, Guitare) ist ein Veteran des traditionellen britischen Jazz. Er spielte als Teenager in verschiedenen Bands aus der Gegend seines Geburtsortes Sidcup in Kent, so z.B. den Northdown Stompers mit George Berry. Etwa zu dieser Zeit lernte er Sammy Rimington kennen und spielt bis zum heutigen Tag in seiner Band. Auf seinen zahlreichen Reisen trat er in Belgien, Holland, Deutschland, Frankreich, Dänemark, Schweden und der Schweiz mit verschiedenen Bands auf und war außerdem längere Zeit Mitglied der Sonny Morris Band. Eric hat während seiner Karriere eine Reihe von CDs aufgenommen, die erste in der Mitte der 60er Jahre mit George "Kid-Sheik" Cola und Bob Davenport für das Topic-Label, in England mit Tim Laughlin und Tuba Fats, In den letzen Jahren wurden weitere CDs mit Sammy Rimington produziert, wovon eine in New Orleans aufgenommen wurde.